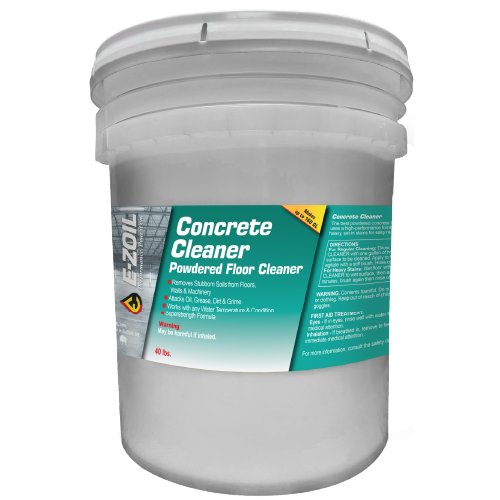 CONCRETE CLEANER
POWDERED FLOOR CLEANER
The best powdered concrete floor cleaner, CONCRETE CLEANER uses a high-performance formula to penetrate and remove dirt, oil and heavy, set-in stains for easy removal.
PERFORMANCE FEATURES
• Removes Stubborn Soils from Floors, Walls & Machinery
• Attacks Oil, Grease, Dirt & Grime
• Works with any Water Temperature & Condition
• Superstrength Formula
For cleaning the toughest grease and grime, reach for CONCRETE CLEANER!
BIODEGRADABLE FORMULA
E-ZOIL performance cleaners are formulated for tough cleaning jobs and are safe for the environment when used as directed.
| PART# | SIZE | UNITS/CS |
| --- | --- | --- |
| K15-40 | 40 LBS | 1 |
For Regular Cleaning: Dilute 1/4 to 1/2 pound of CONCRETE CLEANER with one gallon of hot water depending on soil level of surface to be cleaned. Apply to floor and let stand for 10 minutes, then agitate with a stiff brush. Hose off with water. If stain persists, repeat.
For Heavy Stains: Wet floor with hot water. Apply CONCRETE CLEANER to wet surface, then agitate with stiff brush. Let stand for 5-10 minutes, brush again then rinse off.