E-ZOIL Releases Two EPA-approved, COVID-19 Disinfectants
E-ZOIL distributes Emulso's Hexzene No. 2 and Emulso's Spray 77, EPA-registered disinfectants effective against COVID-19.
Fri, Oct 30th 2020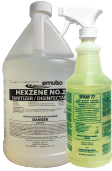 Tonawanda, N.Y. – October 30, 2020 - Welcome to the new normal. Since March, the United States has been gripped by the COVID-19 pandemic. As the cold weather approaches, businesses across the country have set in place new preventative disinfection measures to protect their workforces. Now, many are in search of chemicals approved to kill the novel coronavirus safely and effectively.
E-ZOIL, realizing yet another benefit of their 2019 acquisition of Emulso, a leader in the industrial cleaning supplies industry, recently began distributing two of Emulso's EPA-registered disinfectants. The manufacturer of performance-enhancing fuel additives and cleaning solutions now distributes Emulso's Hexzene No.2 (EPA registration #1839-79-19) a Concentrated Cleaner and Disinfectant and Emulso's Spray 77 (EPA registration #1839-83-19) a Ready-to-Use Cleaner and Disinfectant. Both products kill 99.9% of bacteria and viruses on surfaces, including the coronavirus, clean surfaces, and neutralize odor. Even better news? In October, the EPA verified Spray 77 requires only one-minute of surface contact to kill the coronavirus.
"Everyone is concerned about COVID-19, especially transportation professionals, who represent our primary customers," says E-ZOIL vice president Chris Miller. "We want to ensure these essential workers can perform their jobs safely. Hexzene No. 2 and Spray 77 do just that. Spray 77 even kills COVID-19 within 60 seconds!"
Emulso's Hexzene No. 2 is available in 1-gallon and 5-gallon containers. Emulso's Spray 77 is available in 32 oz bottles with trigger atomizers. E-ZOIL performance cleaners are formulated for tough cleaning jobs and are safe for the environment when used as directed.
For more information on Emulso's Hexzene No. 2 or Emulso's Spray 77, phone 716-213-0106. For more information on Emulso, visit www.emulso.com.