E-ZOIL Launches E-Z Sheen, Premium Tire Dressing
E-Z Sheen Premium Tire Dressing polishes and protects tires from environmental hazards.
Thu, Oct 28th 2021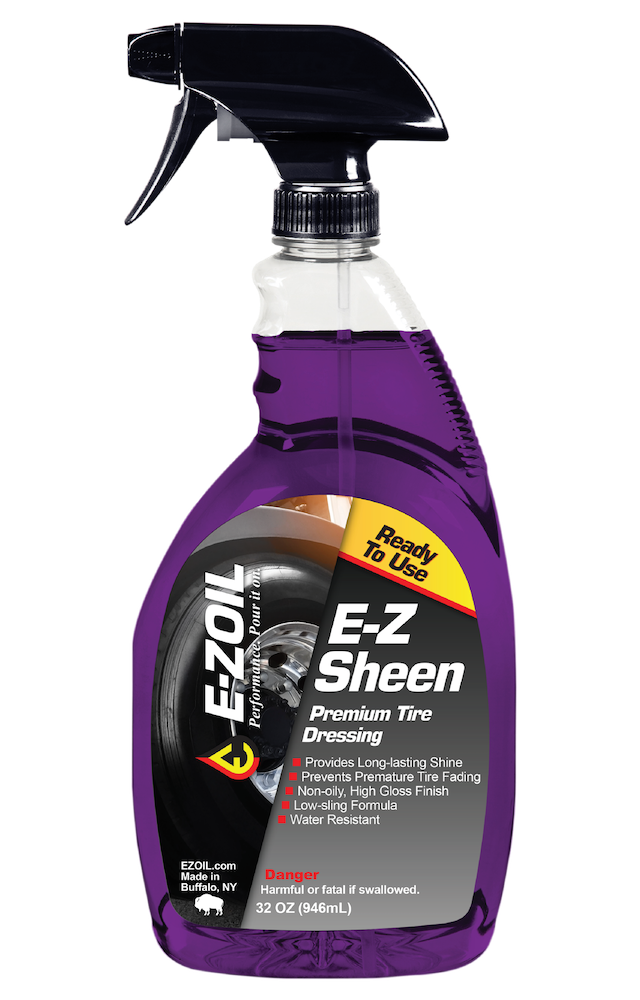 Tonawanda, N.Y. – November 1, 2021 – Polished protection is the goal of E-ZOIL's latest product release. This month the manufacturer of performance-enhancing fuel additives and cleaning solutions introduced E-Z Sheen Premium Tire Dressing to the heavy-duty aftermarket.
Tires and wheels take a beating from constant exposure to roadways and the weather. Environmental hazards like road tar, brake dust, dirt, water, salt, grease, and UV rays cause premature wear and tire fading, which can tarnish the overall appearance of an otherwise new vehicle. To preserve functionality and maintain that 'new tire' luster, preventative maintenance is key. Cue: E-Z Sheen.
Using a low-sling, high-performance formula, E-Z Sheen polishes tires, providing long-lasting shine and water-resistant protection. E-Z Sheen protects tires by reflecting harmful UV rays that degrade rubber and acts as a barrier agent against nasty road grime. The even better news? Product application is a cinch. Simply spray it on tires and wheels, buff, allow it to dry, and drive off with your 'brand new' wheels.
"In formulating a tire shine for the commercial vehicle market, we knew we had to create a product that was as strong as the people who use it," says E-ZOIL vice president Chris Miller. "E-Z Sheen not only provides a superb shine but lasts long, too."
The eco-friendly E-Z Sheen is available in 32-ounce and 1-gallon containers and is available immediately for purchase.
E-ZOIL performance cleaners are formulated for tough cleaning jobs and are safe for the environment when used as directed. For more information on E-ZOIL and its complete line of high-performance cleaning products, phone 716-213-0106 or visit www.ezoil.com.